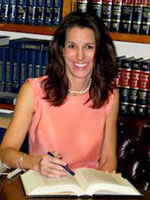 Nikki Siesel
Nikki Siesel has been a valued firm member of several law practices over the course of her 24 years in law. She commenced her concentration in trademark law in 1995. Prior to practicing law, Ms. Siesel was a Trademark Specialist at a Manhattan trademark research corporation. She acquired immeasurable experience while servicing many well-known high profile corporations when she was affiliated with a commercial litigation firm in Manhattan. In her current practice, she brings her professional capabilities and trademark experience to a more personalized firm environment. She offers a detailed oriented approach that is critical to a trademark practice and combines it with unwavering dedication to her clients. Please take the opportunity to learn more about Nikki Siesel by reading her clients' testimonials.
Ms. Siesel focuses her practice in the area of intellectual property, which includes trademarks, copyright registration, and domain name issues. She counsels clients in all phases of trademark adoption, trademark clearance, and trademark prosecution, both in domestic and international transactions. Ms. Siesel strongly recommends selecting inventive and distinctive Marks because those types of trademarks are the strongest on the spectrum, are cost efficient to prosecute, provide the broadest scope of protection, and are the easiest to police in the marketplace. She develops strong relationships with all her clients in various industries including computer, hemp, apparel, health and fitness, entertainment, cosmetics, solar energy, international sail-making, and restaurants. She seeks to exceed her clients' expectations in regard to quality legal services at affordable fees. The majority of Ms. Siesel's practice is before the United States Patent and Trademark Office and the Trademark Trial and Appeal Board. In addition to practicing in the New York State courts, she is admitted to the United States Federal District Courts for the Southern and Eastern Districts of New York. She is a member of the NY State Bar Association as well. Her current practice allows her to successfully represent clients throughout the United States and across the globe. Learn more about Ms. Siesel's practice by reading her blog located here. You can keep up with the latest trademark cases and the ever-changing landscape of the Internet by following Ms. Siesel on social media and by monitoring her updates on her blog.
Ms. Siesel enjoys the close client contact afforded to her and takes the time to learn about the details of each client's respective business. This aids her in preparing each trademark application. It is crucial that the goods and services in each application are properly identified. Only experienced trademark counsel can advise when it is appropriate and advantageous to broadly articulate the goods and/or services and when a concise and narrowly defined identification is required. Ms. Siesel's goal is to provide committed and effective representation, enabling her clients to build impressive trademark portfolios that become invaluable business assets.
Education
Pace University School of Law, White Plains, New York, 1993
Honors: cum laude
B.A., Binghamton University, Binghamton, NY, 1989
cum laude
Jurisdictions Admitted to Practice New York, 1993
U.S. District Court Southern District of New York, 1996
U.S. District Court Eastern District of New York, 1996

Professional & Bar Association Memberships
NY State Bar Association